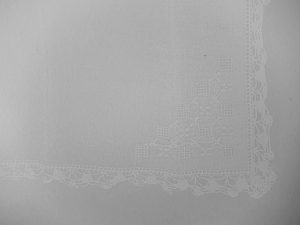 'Safe distance' has been selected to be exhibited at Shape Open 2017  – Power: the Politics of Disability.
Each tile, with an individual screen print image of an 'old' handkerchief, represents a person, with its unique stories. Reproducing visual images of memory items aims to retrieve what is forgotten, giving special value to what is not valued anymore. The viewer is invited to reflect on what is lost and what remains to be found for people with dementia and their carers. Dementia is a 'hidden' disability. Their stories are not heard because they often cannot be coherently expressed or communicated. The viewer is challenged not to keep a safe distance but to come up close and take time and care. The stories are told 'quietly' – one needs to stop and listen.
Artists can challenge the politics of disability by using a different, creative language which appeals to the senses and touches the emotions.
The exhibition takes place at the Ecology Pavilion, Mile End Park, London, opening on Thursday 19 January and continuing until Thursday 2 February 2017 – the night of the Private View, which is open to the public and takes place from 6.30 to 8.30pm. The exhibition is open every day from 10am to 6pm, except Mondays.